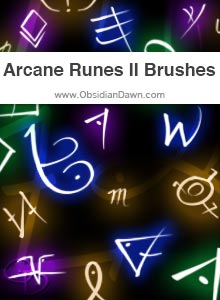 Brushes: 22
Compatibility:
Photoshop CS-CS6, CC
Photoshop Elements 3+
GIMP 2.2.6+


Description: Various arcane runes. These are not real runes, so have no fear of a piano falling atop the person that views them after accidentally arranging them in a malicious manner. They're entirely made up. Great for fantasy and sci-fi, to portray spells or other languages.



Download the image pack (for those without Photoshop & GIMP)
Photoshop Tip: Did you know that you can set up your own customized Photoshop keyboard shortcuts?
On the top menu, click Edit > Keyboard Shortcuts.
Find the action you're looking to set up a shortcut for. They're organized nicely by topic, to help you find them more easily.
Click on it, and a white box should appear to let you know that it's ready for your input.
Press the key combination that you want to be the shortcut. Don't worry, Photoshop will tell you if it's a combination of keys that's already taken by something else. It will tell you that there's a conflict, and you can either undo the changes you just made, or resolve the conflict some other way.