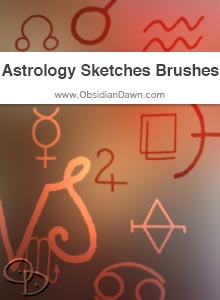 Brushes: 39
Compatibility:
Photoshop 7, CS-CS6, CC
Photoshop Elements 2+
GIMP 2.2.6+


Description: Sketches of astrological symbols, from the signs of the zodiac to the various aspects and nodes of the moon to the symbols for the planets.
High Resolution!



Download the image pack (for those without Photoshop & GIMP)
Photoshop Brushes Tip:
When you are creating a brush, did you know that you can highlight just a portion of your canvas and make just that portion into a brush?
Open an image.
Using the lasso tool, select only a certain portion of that image by clicking and making a circle around your selected area.
On the top menu, choose Edit > Define Brush Preset.
Click on your brush tool (or hit "b"), click on the little arrow next to your brush preview on the top bar to view the brush preset picker. Check out the very bottom/last brush, and you'll see that only the portion of the image that you had selected is included in that brush.
Note: Photoshop Support has put together a wonderful list of my top 10 Photoshop brush tips! Check it out!