A set of Photoshop & GIMP custom shapes composed of various vector shapes of banners, scrolls, and other bits of parchment. Also includes a fountain pen in the form of a feather, an ink bottle, and a feather inside an ink bottle.
These are also available as Banners & Scrolls Brushes.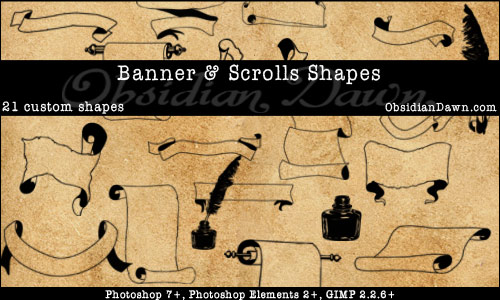 Programs: Photoshop 7+, Photoshop Elements 2+
Shapes: 21
Size: 126KB



Download the image pack (for those without Photoshop & GIMP)
Installing & Using Shapes:
Not sure how to install Photoshop's custom shapes? Well, it's almost exactly like installing Photoshop brushes. However, the file goes here:
Windows:
Program Files > Adobe > Photoshop (version) > Presets > Custom Shapes
Mac:
(wherever you installed Photoshop – usually Applications) > Photoshop (version) > Presets > Custom Shapes
Then, to load them:
open up Photoshop (if you saved them while PS is open, you'll have to restart PS for them to show up automatically in the list)
hit "U" to bring up your custom shape tool
when you hover over that tool, it should say "Custom Shape Tool" – if it doesn't, right click on that box and select it
File > New (CTRL-N or CMD-N), and make it whatever size you want – 600 x 600 will do
on the top bar, next to where it says "Shape:" click on the little arrow just to the right of that thumbnail to open the Custom Shape Picker
then click on the small arrow on the upper right corner of that window
the "SS-banners-scrolls" should show up for you in that list, so select it and hit "Ok" to replace
you'll now see the thumbnails of the banners and scrolls – click on whichever one you want to use
just below your main menu, on the left side, you'll see the tool preset picker and then three different options for how to use shapes – make sure that "shape layers" is selected (hover over them with your mouse to see what each of them is) – this will make sure that your shape is filled in, and not just an outline of a shape/path
select the color that you'd like the banner or scroll to show up in as your foreground color
on your canvas, drag from somewhere in the upper left corner down to the lower right – you'll see the shape as it's being created, and once you let go, it will create it
TIP: If you want to keep the proportions the way that they were intended, hold SHIFT down while you're draggging
Enjoy!