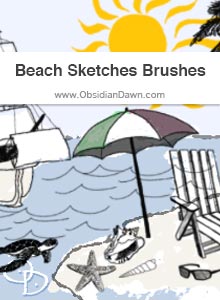 Brushes: 26
Compatibility:
Photoshop 7, CS-CS6, CC
Photoshop Elements 2+
GIMP 2.2.6+


Description: Various beach themed elements, drawn by hand and with a "sketchy" look to them. Includes a beach ball, umbrella, conch and other shells, dolphin, lighthouse, lounge chair, palm tree, pelican, sea turtle, ships, the sun, starfish, waves, and more!
High Resolution!



Download the image pack (for those without Photoshop & GIMP)
Random Brushes Tip:
I've showed you in various other brushes tips how to get brushes to do things like scatter, change their angle, size, and color, etc. So, what happens if you want to SAVE a brush like that, once you've created it?
Well, first off, make sure that you have the set open that you want to save the brush to. Because it will be added to whichever set you have currently open.
Once you have the brush settings how you'd like them, click on your Brushes tab (or hit F5). Up in the VERY upper right hand corner, there should be a small arrow (facing right). Click on that arrow. (Alternately, you can click on the small arrow next to your currently selected brush's thumbnail to open the brush preset picker, and then choose that small arrow on the top right.)
You should see a list of all your current brush sets, etc. Near the very beginning, there should be a "New Brush Preset.." option. That's the one you want! Choose that, name your brush, and it will be added to your current set.
How is this different from choosing Edit > Define Brush Preset from the top menu? Well, if you do it that way, all it will save is the brush shape, based on what is on your canvas. "New Brush Preset.." will save the brush that you're currently using, including all the extra options you've added.