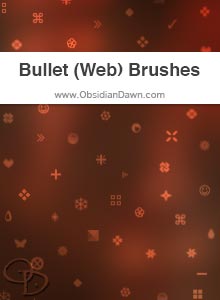 Brushes: 31
Compatibility:
Photoshop 7, CS-CS6, CC
Photoshop Elements 2+
GIMP 2.2.6+


Description: Various web bullets. These are pixel designs, and could be used for anything from web bullets to making a webpage divider to accenting all sorts of stuff. I've also used them to create glitter with unique shapes. They are 12×12 pixels on average. Includes: floral designs, squares, heart, arrows, checkmark, butterfly, bubbles, dots, minus and plus signs, a gear, sparkles, snowflakes, teardrops, and more!



Download the image pack (for those without Photoshop & GIMP)