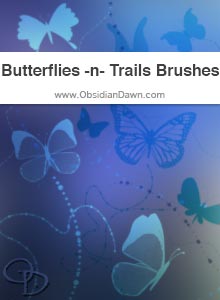 Brushes: 26
Compatibility:
Photoshop 7, CS-CS6, CC
Photoshop Elements 2+
GIMP 2.2.6+


Description: Butterflies — most of which are in a vector format — and swirly dots or glitters that you can use to make "trails" for where they've flown. Includes 17 butterflies and 9 of the swirly trails.



Download the image pack (for those without Photoshop & GIMP)
Random Photoshop Brushes Tip:Ever wonder how people make a brush "fade out" as the stroke continues? Almost like real paint would? Here's a quick tip on how to do just that.
Select a basic, round brush with your brush preset picker. About 15 pixels or so would be a good size. Now, click on the "Brushes" tab on the upper right of your Photoshop working space (or hit F5).
Click on "Shape Dynamics." Make sure that Size Jitter, Minimum Diameter, Angle Jitter, and Roundness Jitter are all at 0%. The controls after Angle Jitter and Roundness Jitter should also say "Off."
Generally, as something fades out like a brush stroke, it also gets smaller in diameter. Let's do that first. Next to the Control under "Size Jitter", click the small arrow on the right and select "Fade."
In that small box to the right of it, put in a number. Say 50 or 100. Depending on how long your line is. This value is how many pixels out you want the line to go for before it fades out completely.
Now take that brush and paint on your canvas! You'll see it become smaller and smaller until the brush size is 0px.
The next step is to actually make it fade out (in opacity). Click on "Other Dynamics" under the Brush tab menu.
Under the Opacity Jitter slider, change the "Control" on that to "Fade." Then in the small box to the right of it, put in a value like you did before. 50 or 100 pixels, something like that. This works the same way, but it will actually fade out as it gets smaller.
You can use these individually or together to achieve various effects!