This set of Photoshop & GIMP brushes is composed of various vectors of common Christmas stuff. Includes an angel, candy cane, dove, gift, gingerbread man, lots of holly, some christmas lights and some holly that work great as a border (you can link them up together), "Merry Christmas", a few ornaments, a reindeer, santa, a snowman, a star, a stocking, some snowy swirls, and lots and lots of Christmas trees!
They are all extremely high resolution, with an average size of about 2200 pixels.
If you're not sure how to get them to show up in more than one color, check out my "Multiple Colors with Brushes" Tutorial in the tutorials section.
Oh, and if you're looking for snowflakes brushes (the vector flakes are also available as Illustrator Vectors, too!) …
Snow & Snowflakes Brushes (falling snow & various flakes)
Snowflake Vectors Brushes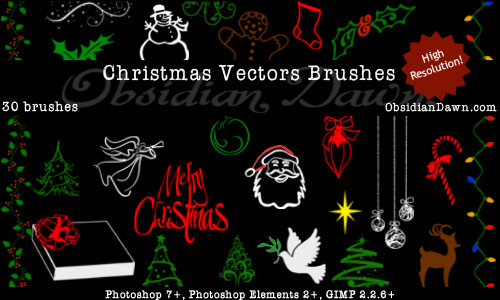 Programs: Photoshop 7+, Photoshop Elements 2+, Gimp 2.2.6+
Brushes: 30
Size: 5.2 MB



Download the image pack (for those without Photoshop & GIMP)