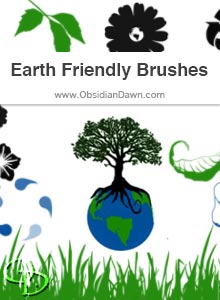 Brushes: 25
Compatibility:
Photoshop 7, CS-CS6, CC
Photoshop Elements 2+
GIMP 2.2.6+


Description: Various vector shapes involving the earth and nature, with a "green" or Ecologically friendly theme. Made for Earth Day. Includes various earth images (an earth inside a giant set of hands, nestled safely in a leaf, with a heart around it, inside a flower, next to some leaves, with a tree growing out of it, etc), flowers, 2 sets of grasses, several leaves, various recycling images, trees, and more!
High Resolution!



Download the image pack (for those without Photoshop & GIMP)