This set of exposed brick as transparent PNGs can be used in any program that will support *.PNG files. Photoshop, GIMP, PSP, and many more. These images are extremely high resolution, with the average size being about 2800 x 2800 pixels @ 300 dpi. That being the case, they are broken up into two downloads.
The first download are all of the red bricks, and the second is made up of the multicolored, more grayish bricks.
These images are made to look like the plaster (or other wall material) has chipped away and is revealing the brick wall beneath.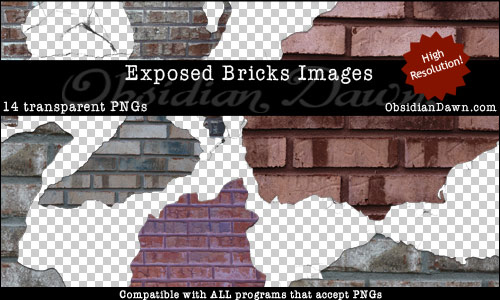 Programs: Photoshop, GIMP, PSP, and many more
Images: 8 (Gray) & 6 (Red)
Size: 45.3MB (Gray) & 35.2MB (Red)
RED:

GRAY:


BOTH:

Tip:
You can use these in just about any program out there that will accept PNGs (and most do). Just select all, copy, and paste onto your wall texture.
These include some cracks and "roughness" around some of the edges of the bricks, which should look good on its own or which you can use to build upon – adding more rough edges to the material surrounding the bricks. Or, you can just erase those cracks and use just the brick sections.
In Photoshop, if you want to change the angle of the images, choose Edit > Transform and Flip Horizontal or Flip Vertical to get all new shapes!