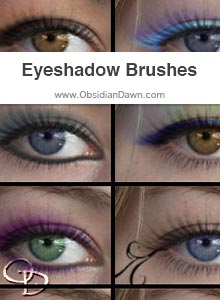 Brushes: 52 (26 unique)
Compatibility:
Photoshop 7, CS-CS6, CC
Photoshop Elements 2+
GIMP 2.2.6+


Description: Various shapes of eyeshadow. Includes most of the traditional eye shadow shapes — some broken up so that you can apply them in different colors — as well as some glittery effects, patterned eye makeup, and face painting styled eye accents (a butterfly and a swirl). Brushes are included for both right and left eyes.



Download the image pack (for those without Photoshop & GIMP)