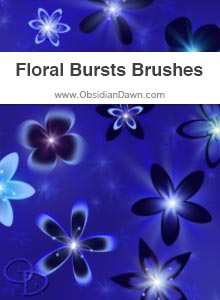 Brushes: 24
Compatibility:
Photoshop CS-CS6, CC
Photoshop Elements 3+
GIMP 2.2.6+


Description: Floral designs, including several flowers and filaments, as well as a few light bursts to use as you choose. There's any number of things you can do with both — and you can see in the preview image how they appear together. For techniques on achieving this look, see below.
High Resolution!



Download the image pack (for those without Photoshop & GIMP)
Preview Image Technique Tip:
If you're wanting to create a design like that in the preview image, here's how you'd do it.
On top of a colored background, create a new layer. Make sure that layer is above the background. Name it "flowers".
Click on the background layer and create a new layer again. This new layer — call it "color bursts" — should be above "Background" and below "flowers".
On the "flowers" layer, use a dark color and one of the flower / floral brushes to click once and add the flower.
Click on the "color bursts" layer and use a lighter version of that same color (light blue in my case) and use one of the burst brushes (resize it to have the burst as large as you'd like first).
That looks pretty good on its own, but here's a few other tricks I used on some of them.
Create a new layer on top of "color bursts" and below "flowers" and use that same lighter color. Choose the same flower you used in the dark color, but use it in a slightly larger brush size and put it in the same spot (but one layer below) the dark flower. It should outline it in a lighter color.
Also, if you'd like an extra bright burst, create yet another layer on top of "flowers" and use a pure white color. Choose one of the bursts brushes, and make it pretty small, then click in the very center of the flower.
You can then use some of the filaments brushes on another layer on the very top of all the others, in either a light or a dark color.
Enjoy!