This set of Photoshop & GIMP brushes is composed of brushes used for painting animal fur. There's some single hairs, some doubles, and some groupings of several hair strands together. All of them are made to scatter and change their angle just slightly, so as to make the fur look realistic. They will also just slightly alter their hue, saturation, and brightness to allow for the distinguishing between individual hairs, as you can see in the preview image.
Most of these are not terribly high resolution, since in most cases they won't need to be. They're about 1000 pixels on average, but should be scalable up to the maximum brush size without any loss of quality if you actually need them that large.
I'm writing a few tips on using these below, so scroll down if you're experiencing problems using them or just want some help in making them look as realistic as possible.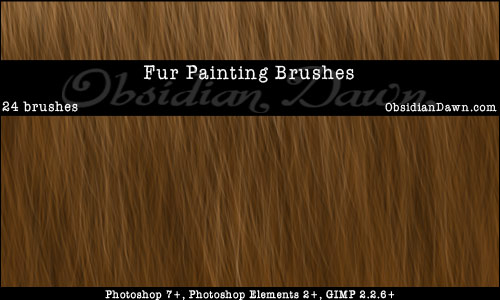 Programs: Photoshop 7+, Photoshop Elements 2+, Gimp 2.2.6+
Brushes: 24 (19 images in the image pack)
Size: 776 KB



Download the image pack (for those without Photoshop & GIMP)
If you're interested in making them look like they do in my preview image:
* start with a solid, dark-ish base color covering the area where you want the fur to be
* choose the fur brush of your choice
* choose a color just slightly lighter than your base color
* paint on the fur
* I added a second layer on top, with an even lighter color selected and the opacity of the brush set to about 50% and painted in a few highlight hairs here and there
Tips:
There's a few settings you can play with if the brushes aren't looking just how you'd like. All of these can be found in your brushes tab/window (F5).
Brush Tip Shape
* Angle – This will change the angle of your brush, in case you change the direction that the fur
* "Flip X" and "Flip Y" checkboxes, which will flip the brush either horizontally or vertically
* Spacing – This changes the spacing between the individual hairs. If you want the hair to be thicker, move this slider to the left. Thinner, to the right. (Setting a high spacing is a great way to do "highlight hairs", as well)
Shape Dynamics
* Size Jitter – This sets the hairs to change in size more or less each time that they're applied. Move the slider to the left for more uniform hair sizes.
* Angle Jitter – This is what's making the hairs change slightly in angle each time they're applied. Move it more to the left for a more uniform angle, and more to the right for more scraggly hairs.
Scattering
* Scatter – More or less scatter to the hairs as they're applied. If you need a nice, uniform line of hairs, move the scatter bar more to the left.
* Count – This also makes the hair thicker or thinner, by changing the # of times the brush shows up with each application or click. Thinner = left, thicker = right.
Color Dynamics
* Foreground/Background Jitter – This can be used if you want the hairs to vary a bit more in color. The hairs will go back and forth in color between your currently chosen foreground & background colors. I didn't use this at all on the brushes, but you could certainly choose to add it in yourself.
* Hue Jitter – This is what makes the hairs change slightly in hue (color). A medium brown as your chosen color will produce hairs that are slightly more towards the red end of brown or slightly more towards the yellow end of brown. The more you slide this bar to the right, the more the color changes. Unless you want a rainbow animal, you want this setting to stay very low.
* Saturation Jitter – This will change the hairs so that they're slightly more or less saturated in color than your chosen foreground color.
* Brightness Jitter – This changes the brightness of the hairs, so that some come out more light and others more dark than your chosen color. The higher this setting, the more variance.
Other Dynamics
* Opacity Jitter – This changes it so that some of the hairs are more or less opaque or transparent than others. A higher setting = more transparency.
* Flow Jitter – Very similar to the opacity jitter, and in this case pretty much identical. It just varies the transparency of the hairs more or less.