This set of Photoshop & GIMP brushes is composed of various shapes of glowing circles. Most are single, but there's some groupings of circles together, as well. They should work wonderfully for all kinds of things.
They are all extremely high resolution, with an average size of about 2300 pixels. Enjoy!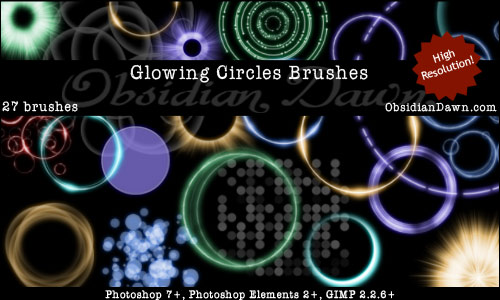 Programs: Photoshop 7+, Photoshop Elements 2+, Gimp 2.2.6+
Brushes: 27
Size: 35.2 MB



Download the image pack (for those without Photoshop & GIMP)
Tip:
If you're interested in making them look like they do in my preview image, start with a dark background. On a new layer, use the brush in white. Add a layer style of "Outer Glow" to that layer, and choose a strong, vibrant color. Play with the opacity and perhaps change the blend mode from "Screen" to "Normal", and there you go!