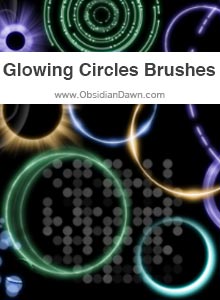 Brushes: 27
Compatibility:
Photoshop 7, CS-CS6, CC
Photoshop Elements 2+
GIMP 2.2.6+


Description: Various designs of glowing circles. Most are singles, but there's some groupings of circles and rings together, as well.
High Resolution!



Download the image pack (for those without Photoshop & GIMP)
Tip:
If you're interested in making them look like they do in my preview image, start with a dark background. On a new layer, use the brush in white. Add a layer style of "Outer Glow" to that layer, and choose a strong, vibrant color. Play with the opacity and perhaps change the blend mode from "Screen" to "Normal", and there you go!