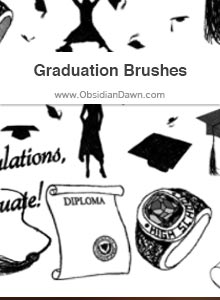 Brushes: 24
Compatibility:
Photoshop 7, CS-CS6, CC
Photoshop Elements 2+
GIMP 2.2.6+


Description: Various sketches of travel graduation themed elements. Included are lots of caps, tassles, caps being thrown in the air, a "congratulations graduate" message, a few diplomas, some class rings, silhouettes of graduates wearing caps and gowns, and much more!
High Resolution!



Download the image pack (for those without Photoshop & GIMP)
Random Brushes Tip:
You can add texture to a brush fairly easily (although, working on high resolutions on slower computers, you may have a bit of trouble — adding texture to brushes this way can definitely slow the brush down).
Select the brush that you want to paint with.
Then, hit F5 to bring up your brushes tab (unless you already have it open, of course).
Click on "Texture"
You can choose the texture that you want just like you would choose a pattern. Click on the small arrow next to the thumbnail, and it will bring up a list of all the available, currently loaded textures. (To load more, you would then choose the arrow on the top right of that window and choose from amongst the available listed pattern sets, at the bottom of that list.)
You can change the scale of the texture using the "Scale" slider. This makes the texture smaller or larger.
"Depth" specifies how deeply the paint penetrates into the texture. Type a number, or use the slider to enter a value. At 100%, the low points in the texture do not receive any paint. At 0%, all points in the texture receive the same amount of paint, therefore hiding the pattern.
"Minimum Depth," therefore, determines the minimum depth to which paint will penetrate.
"Depth Jitter" will make the depth change randomly as you paint, to give it more of a randomly splotchy look.
You can also change the "Mode," which defaults to "Subtract." Play around with how each one looks in the preview at the bottom of the window.