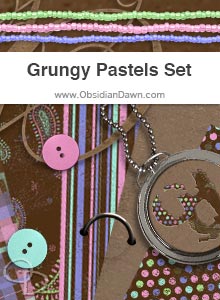 Background Images: 10
Ornaments as PNGs: 15
Writing: 30
Compatibility:
All Programs


Description: A themed set of grungy pastel-colored decorative elements. Includes 10 background images (papers), 15 PNGs (ornaments such as buttons, strings of beads, grunge swirls, a tag, etc.), and 30 letters & symbols. All made to match one another. Great for scrapbooking, web design, and much more!
Very High Resolution!