A set of Photoshop & GIMP brushes composed of various hearts. These are all original designs, and about 900 pixels in size, on average.
Be sure to also check out our Hearts Photoshop & GIMP Brushes set!
Includes: grungy hearts, heart outlines, hearts with swirls, patterned hearts, glittery hearts, basic hearts, a broken stone heart (with a bandaid!), a checkered heart, a tribal heart, a dripping heart, a heart with splatters, and more!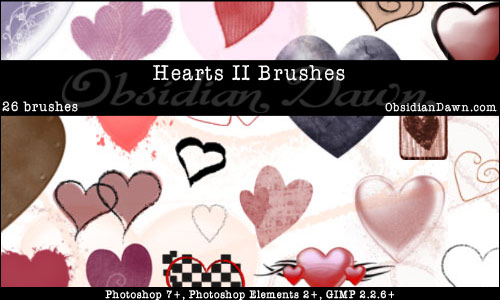 Programs: Photoshop 7+, Photoshop Elements 2+, Gimp 2.2.6+
Brushes: 26
Size: 3.72MB



Download the image pack (for those without Photoshop & GIMP)