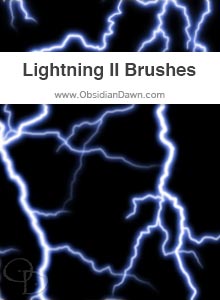 Brushes: 26
Compatibility:
Photoshop 7, CS-CS6, CC
Photoshop Elements 2+
GIMP 2.2.6+


Description: Various shapes of lightning bolts. Includes both single bolts and groupings.
High Resolution!



Download the image pack (for those without Photoshop & GIMP)
Brush Tip:
Lightning works great for illustrating magic. And when you're doing that, lightning comes from (and goes) in all directions. So, how do you rotate these?
Well, when you want to rotate a brush, there are two ways to do it.
1. You can put it on its own layer, and then choose Edit > Transform > Rotate and move it around that way.
2. Even better, you can change the orientation/rotation of a brush before you even use it! Here's how.
Have your brush tool selected, with the brush you're wanting to use loaded. Click on the "Brushes" tab in the upper right area of your Photoshop window (F5 will also open it). Click on "Brush Tip Shape."
Now, you'll see an area where there's a circle with a crosshair through it, with an arrow on one side of the crosshair. Say that you want to rotate your brush about 40 degrees to the right. You can either type in "-40″ into the "Angle" area, or you can click on the arrow part of that crosshair and rotate it around to where you want it to be. You can check how your brush looks in the preview area beneath!
There's also the options for Flip X and Y, which… well, basically flip the brush horizontally or vertically. That's handy for adding borders to something, like if you have a corner brush that's made for the upper right corner and you want to also use it in the upper left… just Flip X, and voila!
Note: Photoshop CC now includes a place to rotate the brush right up by the brush thumbnail!