A set of Photoshop & GIMP brushes composed of various sketches of bottles and tubes of various types of makeup. Also includes various facial elements (eyes, nose, lips), and makeup to go on them. For example, there is eyeshadow made to go on the sketched eyes, lipstick for lips, etc. These were all drawn by hand, and are high resolution. Average size is about 1900 pixels.
The bottles and tubes include lipstick, lip gloss, concealer, nail polish, various powders, eyeliner, pencils, etc.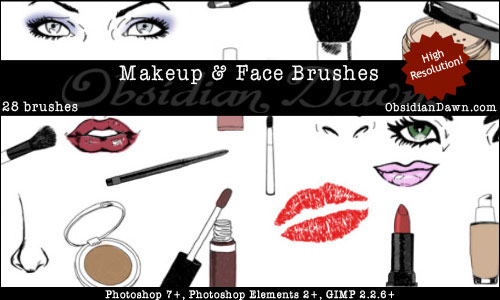 Programs: Photoshop 7+, Photoshop Elements 2+, Gimp 2.2.6+
Brushes: 28
Size: 5.88MB



Download the image pack (for those without Photoshop & GIMP)
Makeup & Face Brushes Tip:
To make it easier to match up the eyeshadow with the eyes or lipstick with the lips, use the sketch part of the brush on its own layer. Then, make another layer beneath that one and use the eyeshadow/lipstick.
Once you've got that added on its own layer, you can use Edit > Transform > Scale to change the size of it, or Image > Adjustments > Hue and Saturation to change the color, brightness, saturation, etc.