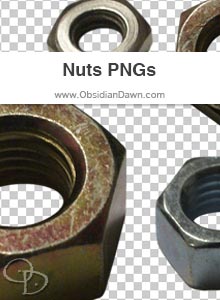 Images: 6
Compatibility:
All Programs


Description: Metal nuts from various angles. Taken from close up, so you can see all the scratches and imperfections.


Photoshop Brush Tip:
If you're doing a lot of painting with a particular brush at various sizes, you don't actually have to go back up to the brush selection area in order to change its size.
The [ key on your keyboard will reduce the size of your brush, and the ] key will increase it. Photoshop will do this in various increments, depending on the current size. If your current brush size is small, it will only go up and down by 1 – but if your brush size is larger, it may jump brush sizes by about 5 or so, etc.
Another tip, for those of you with graphics tablets out there. Some tablets have buttons on them that you can assign various shortcuts to. On my Wacom Intuos3, for example, I have two of the buttons on the left of the tablet assigned to [ and ] so that I can change my brush size without even having to switch to the keyboard.
This tip makes for some MUCH faster painting and designing!