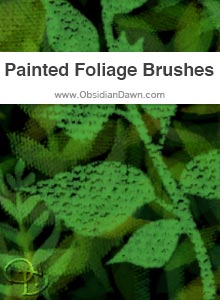 Brushes: 25
Compatibility:
Photoshop 7+, CS-CS6, CC
Photoshop Elements 2+
GIMP 2.2.6+


Description: Various painted foliage shapes. They were all painted by hand, on a canvas — so you can see that canvas texture (and some paint texture) to them. Included within are various stems, grass, and leaves – some single, so that you can put them together however you like, and others already arranged in bunches.
High Resolution!



Download the image pack (for those without Photoshop & GIMP)