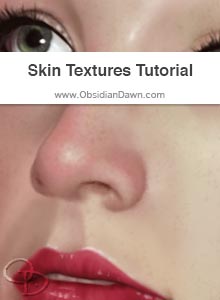 Compatibility:
Photoshop CS-CS6, CC


This tutorial will walk you through how to create realistic skin textures in Photoshop. It will explain how to paint with the brushes, blend to create beautiful skin textures, as well as how to add pores and freckles to the skin.
This set is really made for digital painters. If you're not already accustomed to painting portraits in Photoshop, it may not come of much use to you. But for the digital painters out there that use Photoshop for your painting, this set will help you create skin textures and blend colors like never before.
You'll need to grab my Skin Textures Photoshop Brushes to follow along with this tutorial.