This set of Photoshop & GIMP brushes is made up of various paisley elements. It has various paisley shapes, as well as some of the little ornaments that you'll frequently find accompanying a paisley pattern. They are all hand-sketched.
They look pretty in just one color, but if you really want to get the most out of them, try using the paisley brushes on a new layer and painting different colors on a layer beneath it. Be on the lookout for a tutorial on some shortcuts to create this multi-colored effect with these brushes soon! Subscribe to the Obsidian Dawn newsletter or subscribe/follow us on any of the various sites listed at the bottom of the page so you don't miss out.
These are all high resolution images, with the average brush size being about 1900 pixels.
I have a similar Paisley Photoshop & GIMP Brushes set, but the designs on this set are MUCH larger.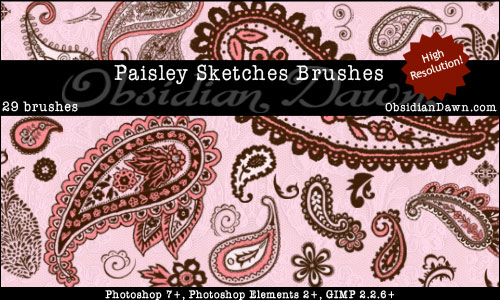 Programs: Photoshop 7+, Photoshop Elements 2+, Gimp 2.2.6+
Brushes: 29
Size: 9.5MB



Download the image pack (for those without Photoshop & GIMP)