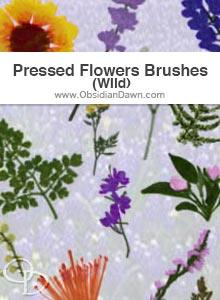 Brushes: 33
Compatibility:
Photoshop 7, CS-CS6, CC
Photoshop Elements 2+
GIMP 2.2.6+


Description: Various pressed flowers, mostly of the wildflower variety. Includes all kinds of wild flower and stem / foliage combinations, especially those found in bouquets. Includes: apple blossom, bottlebrush, buttercup, coral bells, foliage, lavender, lace, heather, fuschia, lobelia, lupine, millionstar, mimosa, pasque, salvia, starburst, sunflower, texas bluebonnet, baby's breath, dandelion, and more!



Download the image pack (for those without Photoshop & GIMP)