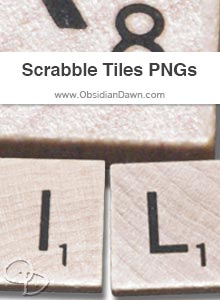 Images: 27
Compatibility:
All Programs


Description: A set of wooden tiles like you would find in the game "Scrabble" — as transparent PNGs, for easy copying & pasting into your own designs. The tile colors, wood grain, and orientation of the tiles vary slightly. Includes all english letters of the alphabet, from A to Z, as well as the "blank" tile, with no letter on it.
Very High Resolution!


Usage Tip:
I have provided these without shadows, since not everyone will want shadows beneath them like they were sitting on a table.
If you do, however, it's really easy to do! Add a layer style by clicking on the "fx" icon on the lower left of the layers palette. Choose "Drop Shadow", then play with the Distance, Spread, and Size until it looks appropriate. (I would also suggest lowering the opacity a bit, unless you want especially dark shadows.)