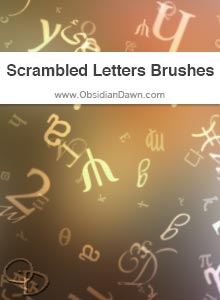 Brushes: 24
Compatibility:
Photoshop 7, CS-CS6, CC
Photoshop Elements 2+
GIMP 2.2.6+


Description: Random scattered letters, symbols, runes, etc. Some have just a few, others are more dense, others are swirl shaped.
High Resolution!



Download the image pack (for those without Photoshop & GIMP)
Random Photoshop Tip:
Did you know that you can change the way that you view your brushes in the brush preset picker?
Select the brush tool and click on the arrow just to the right of the thumbnail that displays in that top area just below the menu. This is the brush preset picker.
Now, click on that small arrow on the top right. From here, you can load all your different brushes, of course, but you can also change the way that they're displayed. You have the following options:
Text: This will only display the name of the brushes.
Small Thumbnail: This displays small thumbnails of the brushes and the brush size just below it.
Large Thumbnail: This displays larger thumbnails of the brushes and the brush size.
Small List: This displays the size of the brush followed by the brush name. There is a VERY small preview, as well, but you may not be able to make out much.
Large List: This displays a larger preview, followed by the size of the brush and the brush name.
Stroke Thumbnail: This view displays the thumbnail, with the size of the brush beneath it. To the right, it shows you what the brush will look like when you paint with it (this is particularly handy for viewing some of my brush sets that were made to be "painted" with, like our textures brush set and special effects brush set).
Note: You can also change the SIZE of that brush preset picker window by clicking and dragging on the lower right corner.