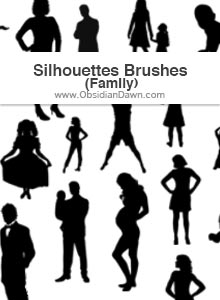 Brushes: 26
Compatibility:
Photoshop 7, CS-CS6, CC
Photoshop Elements 2+
GIMP 2.2.6+


Description: Silhouettes of people. Mostly family-oriented, featuring a pregnant woman, children at various ages, a girl holding a teddy bear, a father holding his child, and more!
High Resolution!



Download the image pack (for those without Photoshop & GIMP)
Random Photoshop Brush Tip:
You can make a brush fluctuate slightly (or greatly) in color each time that you use it! Here's how.
Hit F5 to bring up your brushes tab
Choose "Color Dynamics"
One way to control the color is to choose two colors for your foreground and background colors. In the case of a blade of grass, say… light green and dark green. Then set the "Foreground/Background Jitter" bar somewhere between 25-75%. When you use your brush, it will now vary in color between the foreground and background colors that you chose!
Another way (or you can do the former and then ALSO do this) is by using the Hue, Saturation, and Brightness Jitter sliders.

Hue will change the color itself. Set it at about 10%, and your green will become both a blue-green and a yellow-green sometimes.
Saturation will change the intensity of the color. Set it at 20% or so, and your green will switch between a bright, vivid green to a slightly grayed-out green.
Brightness will change the darkness of the color. Set it at 20% or so, and your green will range between a light green and a darker green.
Play around with these settings, and you can achieve all kinds of color variations!