This set of Photoshop & GIMP brushes is composed of brushes used for painting realistic skin textures. There is a tutorial that I've posted to go along with it. To make the most of this brush pack, you'll want to watch it.
Painting Skin Textures in Photoshop Tutorial
Unlike all of my other sets, this set was made to work only in versions of Photoshop from CS3 onward. I'm afraid that Photoshop 7 didn't have the ability to do with the brushes the kinds of things – mostly blending and smudging – that I wanted this set to be able to do. And the next newest version of Photoshop that I had to make them in was CS3. I'm not sure if they can be used in GIMP or not, but I assume not.
Most of these are not terribly high resolution, since in most cases they won't need to be. They're about 800 pixels on average, but should be scalable up to the maximum brush size without any loss of quality if you actually need them that large.
For those of you that are not digital painters or who don't generally paint portraits, this set does wonders on photos, as well. Use it on someone's skin to smooth up that skin and make it look professionally airbrushed. It also works great for creating textures in backgrounds and such.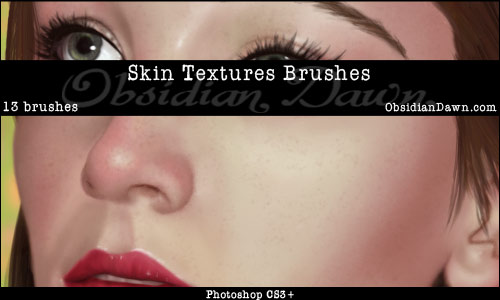 Programs: Photoshop CS3+
Brushes: 13
Size: 776 KB



Download the image pack (for those without Photoshop & GIMP)