A set of Photoshop & GIMP brushes composed of various sparkles, glows, glitters… whatever you want to call them. I'll stick with sparklies! They're all about 900 pixels tall/wide. Includes several groupings of them, some on their own, some scattered about, and even a few "parts" of them to add as accents wherever you should choose.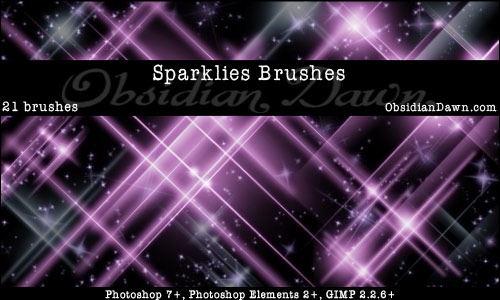 Programs: Photoshop 7+, Photoshop Elements 2+, Gimp 2.2.6+
Brushes: 29
Size: 3.54MB



Download the image pack (for those without Photoshop & GIMP)
Brush Tip: When using these, they look really quite pretty just on their own. However, to achieve the look that I've done here in my preview image, you'll use a white color to apply the brush. Make sure it's on its own layer. Then, go in and add a layer style to that layer: outer glow. Choose a bright, vivid color. I changed then changed the opacity of that glow to about 55-60%, and I moved the "size" slider up until it looked good to me. Working with a brush that was sized to 400 pixels, for instance, I changed the "size" of the glow to 49 pixels. Play around with it until it looks how you want!