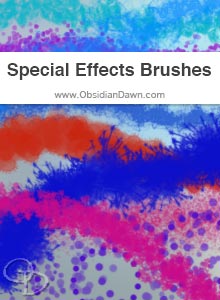 Brushes: 24
Compatibility:
Photoshop 7, CS-CS6, CC
Photoshop Elements 2+
GIMP 2.2.6+


Description: These brushes are made to be painted with. They will create various special effects as you paint or draw a line with them. The lines that you see in the preview image is what the brush looks like as you paint/draw with it. Includes grungy type effects, overlapping circles, various glowing dots, splotches, glitters, etc.



Brush Tip: To best see what each of these brushes will look like when you use it, you can vary the way that your Photoshop brushes show up for you in your brush preset picker by following these steps:
click on your brush tool
click on the small arrow next to the brush preview to open the brush preset picker
click on the arrow on the upper right side of the small window that opens (where you usually choose which brush you're using)
choose "Stroke Thumbnail"
Those options listed in that section are all the different ways that you can view your Photoshop brushes, so try each just to see what it does! You can use this to switch between all kinds of ways to view your brushes, including large and small thumbnails, stroke thumbnails, an image and the name of the brush, etc.