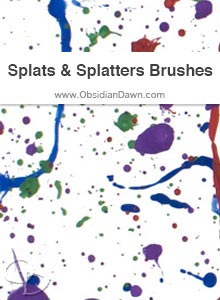 Brushes: 30
Compatibility:
Photoshop 7, CS-CS6, CC
Photoshop Elements 2+
GIMP 2.2.6+


Description: Various paint splats and splatters. This set is made from photos taken of real paint that was splattered around on a canvas. Some single splats, some long stringy splatters, and also various clumpings of spatter together.



Download the image pack (for those without Photoshop & GIMP)
Random Brush Tip:
To scatter a brush shape about randomly in different sizes and at different angles, click on your brush tool. Select which brush you want to scatter.
Click on the brushes tab up on the upper right corner of your Photoshop window (or hit F5).
Click on Shape Dynamics. Set your Size Jitter slider at about 50-75%.
If you don't want your brush size to get smaller than a certain size, set your Minimum Diameter slider to whatever percentage you think fits.
To change the angle of the brush, set the Angle Jitter slider low or high depending on how much you want the brush to tilt to one side or the other.
Make sure everything else is at 0% or Off.
Click on Scattering, and then set the Scatter slider as low or high as you'd like. You can see how much it's scattering in the thumbnail below.
Click on Brush Tip Shape. Move the Spacing slider to the right until the brush is spaced how you'd like. Make sure the rest is at 0% or Off.
That's it! Now paint with your brush.