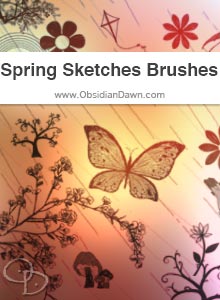 Brushes: 35
Compatibility:
Photoshop 7, CS-CS6, CC
Photoshop Elements 2+
GIMP 2.2.6+


Description: Various sketches with a spring / springtime theme. Includes a butterfly, cherry tree branches, clouds, a cloud blowing wind swirls, lots of flowers, some kites, mushrooms, lots of rain, a rainbow, robin, trees, an umbrella, windy swirls, and more!
High Resolution!



Download the image pack (for those without Photoshop & GIMP)
Random Brushes Tip:
Ever have trouble remembering some of Photoshop's keyboard shortcuts for doing certain things? They can save you a TON of time, if you get good at them!
Here's a link to some great PDFs of Photoshop's keyboard shortcuts that you can download and/or print out for reference. They are separated by your particular version of Photoshop, and are available for either a PC or a Mac!