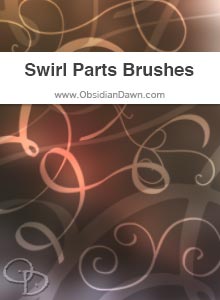 Brushes: 26
Compatibility:
Photoshop 7, CS-CS6, CC
Photoshop Elements 2+
GIMP 2.2.6+


Description: Various swirl parts. While pretty on their own, as accents, these were really made to be used to create your own swirl designs. Some are just one swirl while others are a bit more elaborate.



Download the image pack (for those without Photoshop & GIMP)
Brushes Tip:
To make the most of these brushes, you need to be able to rotate them and flip them to be used at the angle/orientation that you choose. You can change the angle of your brush before you even use it! Here's how:
Have your brush tool selected, with the brush you're wanting to use loaded. Click on the "Brushes" tab in the upper right area of your Photoshop window (F5 will also open it). Click on "Brush Tip Shape."
Now, you'll see an area where there's a circle with a crosshair through it, with an arrow on one side of the crosshair. Say that you want to rotate your brush about 40 degrees to the right. You can either type in "-40″ into the "Angle" area, or you can click on the arrow part of that crosshair, then drag your mouse to rotate it around to where you want it to be. You can check how your brush looks in the preview area beneath!
In more recent versions of PS, there's also the options for Flip X and Y, which… well, basically flip the brush horizontally or vertically. That's handy for adding borders to something, like if you have a corner brush that's made for the upper right corner and you want to also use it in the upper left… just Flip X, and voila!