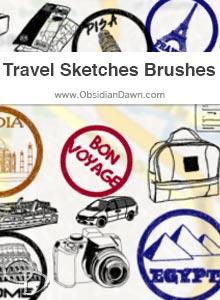 Brushes: 29
Compatibility:
Photoshop 7, CS-CS6, CC
Photoshop Elements 2+
GIMP 2.2.6+


Description: Various sketches of travel themed elements. Includes hand drawn stamps from various countries and "wonders of the world," airplanes, bag, baggage tag, bus, camera, map, passport, ship, suitcase, tickets, train, several driven vehicles (car, SUV, etc) and much more!
High Resolution!



Download the image pack (for those without Photoshop & GIMP)
Random Photoshop Tip:
Did you know that all of those various windows in Photoshop can be opened and closed? You don't need to leave them open, if you don't really use them.
Additionally, there's a small section where you can "stash" the windows temporarily, if you don't want them cluttering up your working area. In the upper right, there should be a grayed out section that probably already has a few tabs worth of windows stored there. Simply drag and drop a window into that area (what it looks like varies based on your version of Photoshop) to move it to the stash. If you want to move a window from that area into your working space, click and drag the tab down to where you want it, and it will show up as a window again.
If you accidentally close a window you didn't mean to, no worries! You can get it back again. Under the top menu, click on "Window" and it will show you a listing of all the available windows. A check box next to a name means that the window is currently active, or visible. Clicking on a window once will make it active/visible, and clicking on it again will hide it once again.