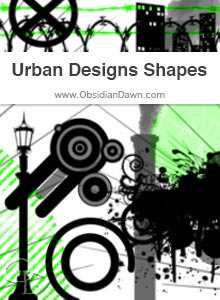 Custom Shapes: 31
Compatibility:
Photoshop 7, CS-CS6, CC
Photoshop Elements 2+


Description: Various urban designs, in vector style. Includes things like barbed wire, buildings, chain link fence, various circles, street lamps, miscellaneous vector designs, razor wire, smoke, a smokestack, vector splatters, telephone poles, and more!



Download the image pack (for those without Photoshop & GIMP)
Photoshop Shapes Tip:
One of the beauties of Photoshop shapes is that they can be made any size, and not lose any quality. Another great one, however, is that they can change in proportion and shape very easily, also without any loss of quality. That's because you're working on the path that outlines that shape, rather than a bunch of pixels put together to form an image.
To keep the same proportions as you use a Photoshop custom shape, hold down the SHIFT key as you click and drag. You can let go of the SHIFT key at any time, or hold it down at any point while you're clicking and dragging to create the shape…. just to see what you're changing by holding it down, try it.
Try something like Edit > Transform and choose any of those options. Play around with your shape, and you'll see how easily it is changed in shape, without losing any quality.
Once you're sure you're done with it, you can right click on the shape's layer in your layers palette and choose "Rasterize." This will convert your path into a plain old pixellated image again and make it harder to edit it, so don't do this until you're sure you're done playing!