A set of Photoshop & GIMP brushes composed of various urban designs, as vectors. All high resolution, with the average brush size being about 1600 pixels.
Includes things like barbed wire, buildings, chain link fence, various circles, street lamps, miscellaneous vector designs, razor wire, smoke, a smokestack, vector splatters, telephone poles, and more!
These are also available as Urban Designs Vectors Custom Shapes.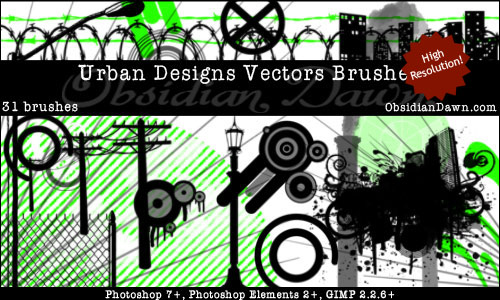 Programs: Photoshop 7+, Photoshop Elements 2+, Gimp 2.2.6+
Brushes: 31
Size: 7.52MB



Download the image pack (for those without Photoshop & GIMP)
Random Brushes Tip:
In the upper right hand corner of your Photoshop window is the "Brushes" tab (if you can't find it, hit F5 to open it). You can drag that tab outside of that small docking area if you're going to be doing a lot of work with your brush settings. Just click and drag it outside of the docking area, and where you drop it, a Brushes window will be created.
You can, in fact, drag all of your different tabs around like that. If you want your layers and channels tabs in separate windows, you can drag and drop one of them outside of the other to separate them.
Don't worry, you can put them back where they were, too. If you drag and drop a tab next to another one, you will merge them into the same window… including that small docking area up at the top where the "Brushes" tab started out.
This can make it much easier if you're planning on working in a particular tab a good deal. It's also a great way to get rid of some stuff when you're not using it much!
(If you want to change the order of the tabs, drag them outside of the window temporarily and then drag them back into the window in the REVERSE order from how you'd like them to appear from left to right. In other words, the most recent tab that you dragged into any particular area will always appear on the right side.)