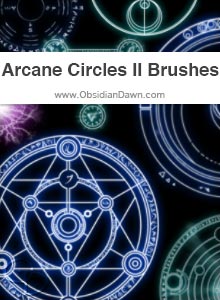 Brushes: 28
Compatibility:
Photoshop CS-CS6, CC
Photoshop Elements 3+
GIMP 2.2.6+


Description: Various arcane and magical circles. These are all original designs (and runes), but some are based off mythological or alchemical symbols. Great for use in your fantasy and sci-fi illustrations!
Very High Resolution!



Download the image pack (for those without Photoshop & GIMP)
Photoshop Tip:
CTRL+J (CMD+J) will duplicate the current layer. However, if you have a selection made, it will only duplicate the portion of that layer within the selection.
Brushes Tip:
To achieve the same look as the preview image, use the brushes on their own layer and then apply an "Outer Glow" layer style to that layer. Change the blend mode to "Normal" and choose a bright, saturated color for the glow. Adjust the "Size" slider to your liking, and voila!