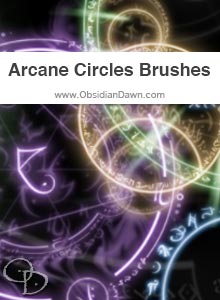 Brushes: 23
Compatibility:
Photoshop 7, CS-CS6, CC
Photoshop Elements 2+
GIMP 2.2.6+


Description: Various arcane circles and symbols. These are all original designs, but some are based off alchemical, mythological, etc. designs.



Download the image pack (for those without Photoshop & GIMP)
Glow Tip for Photoshop:
start with a dark background
make a new layer (SHIFT + CTRL + N for PC) (SHIFT + CMD + N for Mac)
select the brush in this set that you'd like to use
making sure white is your foreground color, click somewhere on the canvas to use the brush
click on the "Add a Layer Style" button at the bottom left of your layers palette (or choose Layer > Layer Style from the main menu) and then choose Outer Glow
set the blend mode to "Normal" and choose a strong, saturated color (bright red would work well, light pink would not)
play with the "Size" slider until it looks how you want it, and then hit OK
Tips for GIMP: (and a big thank you to Mus, who contributed this explanation!)
First select which design you want. Next, go under menu; Filters/Edge-Detect/Difference of Gaussians. A pop-up window will appear. At first, you will notice that the preview window shows your image with inverted-colours. Do not worry, it will not affect the resulting image. Make sure all the boxes are checked initially except "invert". After that, make sure the 'chain' under "Smoothing Parameters" is 'broken', then set "Radius 1" to zero or as low as possible. Then set "Radius 2" to a value that you like as seen in the preview image. I personally like the value "0" for "Radius 1", and "9.20" for "Radius 2". After you're done, CHECK the box "invert" and press "ok".