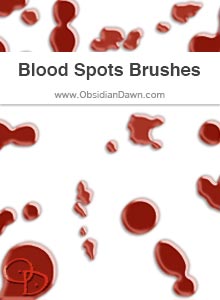 Brushes: 26
Compatibility:
Photoshop 7, CS-CS6, CC
Photoshop Elements 2+
GIMP 2.2.6+


Description: This set of brushes is composed of various shapes meant to imitate drops of blood (or any other thick liquid — like ink). Please note that this is made up of the shapes only. The preview image has layer styles applied to it. Read what my settings were below, in the tip section.



Download the image pack (for those without Photoshop & GIMP)
Settings Tip:
These are the settings I used in the preview image:
Drop Shadow – Multiply as Blend Mode, 29% Opacity, 48 degree Angle, 3px Distance, 2% Spread, 2px Size, Default Countour, 0% Noise
Outer Glow – Normal Blend Mode, 62% Opacity, 0% Noise, #6e5b5b for color, Softer Technique, 0% Spread, 3px Size, Default Contour, 50% Range, 0% Jitter
Inner Glow – Screen Blend Mode, 56% Opacity, 0% Noise, Softer Technique, Edge Source, 9% choke, 3px Size, Default contour, 17% Range, 0% Jitter
Bevel & Emboss – Inner Bevel Style, Smooth Technique, 131% Depth, Direction Up, 4px Size, 0px Soften, Use Global Light UNSELECTED, Angle -138 degrees, Altitude: 21 degrees, Gloss Contour: Rolling Slope Descending, Highlight Mode: Screen (white w/ Opacity 84%), Shadow Mode: Multiply (black w/ Opacity 49%)