This set of Photoshop & GIMP brushes is composed of crop circle shapes. They're all beautiful radial designs, so even if you have NO use at all for crop circle brushes, you'll certainly find a need for these somewhere. Many of them are also shapes in Sacred Geometry.
There is no texture added to these. They are the shapes only. That way, you can apply them to an existing crop texture (or whatever) and create the circles. (Tip: If you're not looking at your crop from straight above it, make sure you use these on a new layer, so that you can use the Edit > Transform tool to skew their dimensions to look like they're lying down in the field.)
These are all very high resolution images, with the average brush size being about 2000 pixels.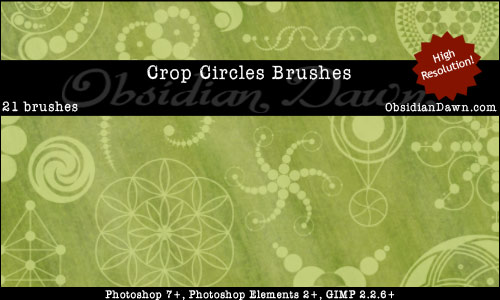 Programs: Photoshop 7+, Photoshop Elements 2+, Gimp 2.2.6+
Brushes: 21
Size: 5.9MB



Download the image pack (for those without Photoshop & GIMP)