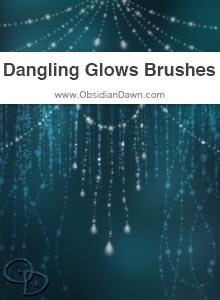 Brushes: 29
Compatibility:
Photoshop 7, CS-CS6, CC
Photoshop Elements 2+
GIMP 2.2.6+


Description: Various glowing dangling designs. They're like glitter on a string! Curtain shapes, circles, wavy stringy dangles — it even includes a few "charms" to put on the end of the dangling strings (heart, teardrop, butterfly, flower) or to create more dangling designs or your own shapes.



Download the image pack (for those without Photoshop & GIMP)