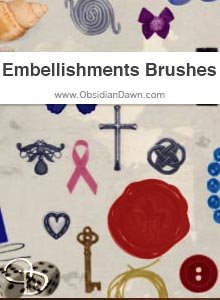 Brushes: 42
Compatibility:
Photoshop 7, CS-CS6, CC
Photoshop Elements 2+
GIMP 2.2.6+


Description: Different types of embellishments and decorations. Made with scrapbooking in mind, but it's also great for adding embellishments to photos, artwork, or websites. Includes: awards, beads, bows, dice, clasps, various metal designs, flowers, ribbons, rope, sequins, tassels, and more!



Download the image pack (for those without Photoshop & GIMP)