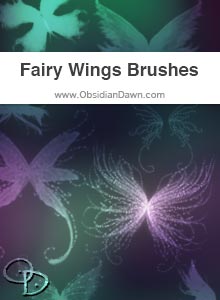 Brushes: 30
Compatibility:
Photoshop 7, CS-CS6, CC
Photoshop Elements 2+
GIMP 2.2.6+


Description: Various fairy wings. Some very unique designs, as well as the traditional fairy wings that you've seen added to many-a-child's photo. Includes both right and left wings.
High Resolution!



Download the image pack (for those without Photoshop & GIMP)
Random Brushes Tip:
Oftentimes, you won't want a brushes shape to be exactly how the brush was made to be. For example, these wings brushes were made to be used from "straight on" – but most times, that won't be how you want to use them! So, in order to help them fit your model, you should follow these tips.
Open up the file with the image where you want to use the brushes.
On the left side, click on the brush tool. Up on top, just under the main menu, it will show you the shape of the brush that you have selected. Click on the arrow to the right of that.
Slide the "Master Diameter" slider to the right or left so that the brush is the size that you want it to be
Hit F7 to make sure that your layers palette is showing. If something disappears, hit F7 again. If it appears, great.
Down at the bottom of that, you'll see some little buttons. The one just to the left of the trash can is the "Create a New Layer" button. Click that.
NOW click on the canvas with the brush you selected (making sure the color is what you want!).
Over in that Layers Palette on the right, the new "Layer 1″ layer should still be highlighted. By putting this brush on its own layer, you can now manipulate the brush and not the rest of the painting/image.
Edit > Transform > Distort
In that little box that shows up, click on the various corners of the image to distort the brush shape so that it's how you want it.
You can use this method to change the angles of things, the basic shape, as well as the perspective!
Say that you wanted to use one of our Arcane Circles brushes, and have it look like its lying on the floor. You would follow the same steps above, and when it comes time to drag the corners to distort the image, you would move the top two corners toward each other and down a bit. The bottom two corners, you would widen. This should make the circle look like it's sitting on a floor! Fine tune it by moving the corners as you see fit, to make it fit your specific floor angle.