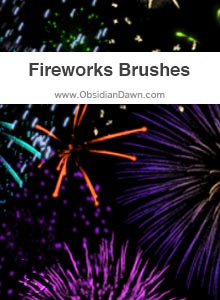 Brushes: 30
Compatibility:
Photoshop 7, CS-CS6, CC
Photoshop Elements 2+
GIMP 2.2.6+


Description: Celebrate with these fireworks brushes! They're all single bursts of some kind or another. Includes the standard firework bursts as well as some of the more recent shaped fireworks ike circles, hearts, stars, etc.



Download the image pack (for those without Photoshop & GIMP)
Tip on how to best use these brushes:
You can use them with a solid color, yes. They'll look great. But, to help make them even more colorful and/or realistic, use them on a new, fresh layer and apply a radial gradient to that layer!
If you want them to still just be the one color, you can still use a radial gradient to help make them look more realistic. Some fireworks are brighter in the center, and some are brighter on the edges. So, apply a radial gradient with just the basic black/white, and set the blending mode to "screen." I also set the opacity to around 50% or so, so that it wasn't TOO bright. Depending on whether your white is on the outer part or the center part of the firework, it's going to look entirely different. If you want to switch them, click the checkmark next to Reverse. Play around with it and see what you can come up with!
You may even want to apply an outer glow to some of them, to make them even more luminescent.