A set of Photoshop & GIMP brushes composed of various glitter and sparkles designs. These are all high resolution, with the average size being about 1500 pixels.
This set includes "curtains" of glitter, lines and wavy lines of sparkles, various clusters of glitter and sparkles, glittery textures, several beautiful glittery swirls, a few individual glittery shapes, glitter "shooting out" from one source, and several glitter and sparkle scatter brushes (the kind that will allow YOU to paint your own glitter!), and much more!
Be sure you also check out our original Glitter Photoshop & GIMP Brushes!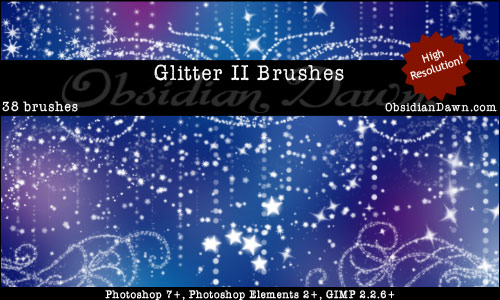 Programs: Photoshop 7+, Photoshop Elements 2+, Gimp 2.2.6+
Brushes: 38
Size: 8.73MB



Download the image pack (for those without Photoshop & GIMP)
Brushes Tip:
Please feel free to play around with the brush settings on the scatter brushes to get the effect that you want. As long as you don't re-save the brush and then the brush set, it won't mess up the original brushes.
Also, even though only the "scatter" brushes are made to scatter, you could make the glitter clusters (or any of these brushes) scatter about to create some more heavily glittered designs and scatterings of glitter even faster.
Hit F5 to bring up the brushes tab.
Here's some settings to play with:
Under Brush Tip Shape
Spacing: This will make the glitters closer together or farther apart
Under Shape Dynamics
Size Jitter: This will make the size of the glitter vary more or less
Minimum Diameter: This will dictate the minimum size that the glitter will be (as its varying in size)
Angle Jitter: This changes the angle of the sparkles more or less
Under Scattering
Scatter: This makes the sparkles scatter about more or stay more along the path that you're painting
Under Other Dynamics
Opacity Jitter: This makes the sparkles vary in opacity as they are painted – more or less