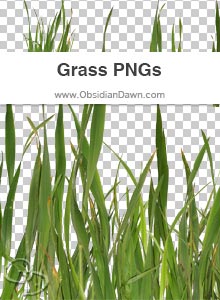 Images: 7
Compatibility:
All Programs


Description: Grass — both single blades and clumpings. These have a transparent background, and can be very easily copy/pasted into your own designs. Includes a very large grouping of grass that you can layer for use as a foreground.
Very High Resolution!


Photoshop Brush Tip:
Are you downloading a lot of Obsidian Dawn Photoshop brushes? Or perhaps you're having a hard time keeping track of who's resources are who's?
Well, worry no longer! Are you aware that you don't have to put all of your brushes straight into the Photoshop > Presets > Brushes category? You can make folders within that folder, as well.
For example, I have a folder for all of my Obsidian Dawn resources, another one for my own, personal brushes that I use for my paintings, etc. etc. You could have one folder for each place or person that you download resources from, and never have to worry about where it came from again. Simply go check your folders.
Folders within folders work, too – so organize to your heart's content!