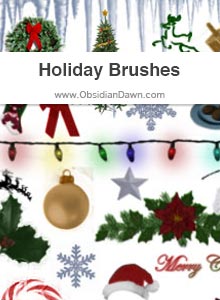 Brushes: 39
Compatibility:
Photoshop 7, CS-CS6, CC
Photoshop Elements 2+
GIMP 2.2.6+


Description: Various holiday items and symbols. Mostly Christmas stuff, but there's a few Hanukkah items thrown in, as well! Includes: angel, bells, bows, candy cane, corner & divider ornamental brushes, dradle, gifts, holly, icicles, christmas lights, menorah, mistletoe, nutcracker, ornaments, poinsettia, holiday clipart / outlines, snowflakes, snowman, stockings, Christmas tree, wreath, and more!



Download the image pack (for those without Photoshop & GIMP)