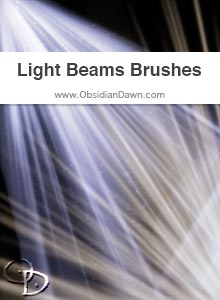 Brushes: 26
Compatibility:
Photoshop 7, CS-CS6, CC
Photoshop Elements 2+
GIMP 2.2.6+


Description: Various light beams and rays of light. It includes beams like those from spotlights, sunlight like you would see coming through branches, lighthouse light beams, sunburst type effects (full circles as well as half and three quarters of the burst), and even some particles to add to your beams of light to make it look like floating dust.
High Resolution!



Download the image pack (for those without Photoshop & GIMP)
Random Brush Tip:
When making your own Photoshop brushes, everything that's pure white will come out transparent. Everything that's black will be a solid color (whatever color you've chosen to make your brush stroke with), and all the grays will be semi-transparent. Make sure that you keep that in mind when designing them!