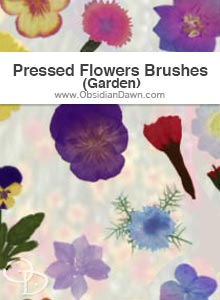 Brushes: 31
Compatibility:
Photoshop 7, CS-CS6, CC
Photoshop Elements 2+
GIMP 2.2.6+


Description: Various pressed flowers, mostly of the variety found in gardens. Most of this brush set includes the flower only, only a few have stems attached. Includes: coreopsis, candytuft, daffodil, rose, marigold, nigella, delphinium, daisy, cornflower, viola, pansy, primrose, star-phlox, zinnia, and more!



Download the image pack (for those without Photoshop & GIMP)