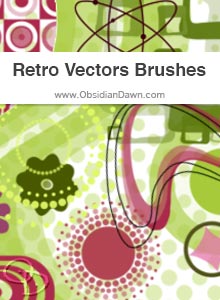 Brushes: 32
Compatibility:
Photoshop 7, CS-CS6, CC
Photoshop Elements 2+
GIMP 2.2.6+


Description: Various retro designs in a vector style. Includes numerous halftones, wavy lines, circles, squares, diamonds, and lots more!
High Resolution!



Download the image pack (for those without Photoshop & GIMP)
Photoshop Brushes Tip:
With vector brushes, it's fairly easy to change the color to different parts of the brush.
First, use the brush on its own layer. (SHIFT-CTRL-N for PC or SHIFT-CMD-N for Mac to create a new layer.) Use whatever color you want.
Next, take the lasso tool (L) and outline the parts of the design that you want to change the color of. For example, using the "circles" brush from this pack, you could outline just the big, center circle. This will select it.
Tip on selecting: Holding SHIFT will allow you to ADD to your current selection, if you missed something. Holding ALT will allow you to SUBTRACT from your current selection, if you got something extra in there.
Now, on the top menu, choose Image > Adjustments > Hue/Saturation.
Slide the "Hue" slider back and forth until it reaches the color that you'd like to accompany the first one.
Hit OK, and that's it! You now have a vector design in two distinct colors, using just one brush.