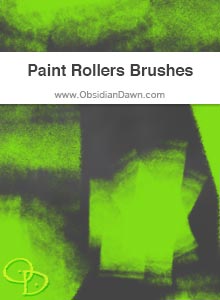 Brushes: 23
Compatibility:
Photoshop 7, CS-CS6, CC
Photoshop Elements 2+
GIMP 2.2.6+


Description: Various shapes of rolled paint — the kind that you roll on with a paint roller. It includes single rolled strokes, many put together, and also some that you can paint your own paint roll strokes with.
High Resolution!



Download the image pack (for those without Photoshop & GIMP)
Photoshop Brushes Tip:
Here's just a small tip I'd like to give you in regards to the brushes in this set that were made for actually painting those strips of rolled paint yourself.
The brushes are named "single-painting" (1-4), and were made so that you could load up that brush, then click and hold as you painted your own roll of paint. HOWEVER, unless you're going to be doing it straight up and down, then you're going to want to make one small adjustment before you start painting.
Open your brushes tab (F5) and click on the top of the options area (left side), where it says "Brush Tip Shape."
Whatever angle you want to brush your paint, either set the angle by typing it next to where it says "Angle:" or by clicking and dragging on the circle with the crosshair just to the right of it (leaving the arrow pointing in the direction/angle you'll be painting).
Now, go ahead and paint with that brush in the direction you just set, and you'll get a much more realistic looking paint stroke.